Remote Control Awnings Q&A
How easy is it to use?
Our single touch operation means that your Elegant awning will fully open at the press of a button - with no need for you standing there, holding down buttons, or waiting to press 'stop' once extended. We program the limits of extension and precise point of closure so you'll only need tap the control once. Truly simple.

What does your "MY" button do?
Elegant awnings can be part-way extended for only partial shade when desired. In this respect the MY button is simply a STOP button. Furthermore, if you regularly use your awning part extended then this position can be programmed as your MY setting for daily press-button convenience.

Is a remote control handset my only option?
No, we can offer a remote control wall switch instead. This contains the same wireless remote control electronics as a handset yet fixes to your wall (inside your house) giving a static point of operation. Battery powered it is wire-free meaning no affect to décor.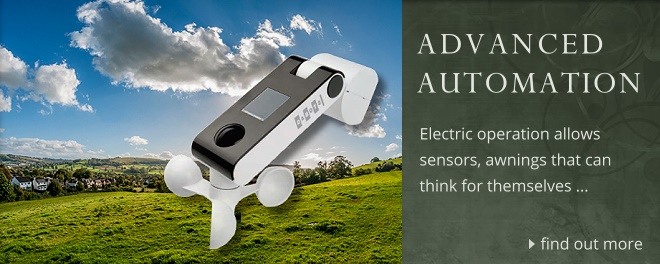 What about control of any weather sensors?
Wind or motion sensors (where included) are themselves adjusted to precautionary levels not intended to be switched off by remote.
Our light sensors, intended to automatically open an awning during strong sun, will have a special sun sensor remote for switching this feature on or off during sunny seasons. Find out more about our automatic awnings.