All Weather Sun and Rain Awnings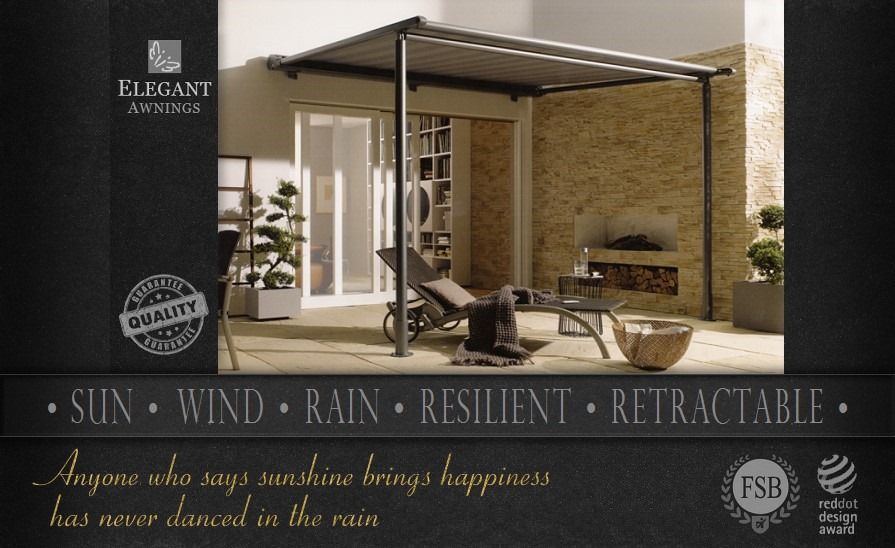 Elegant all weather awnings or sun and rain awnings are waterproof retractable textile patio roofs with legs for sun, wind and rain protection.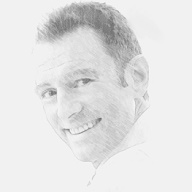 Supported strong we can enjoy our awning whatever the weather, come rain or shine

Having robust construction, withstanding wind speeds up to 49km/h, plus a more waterproof fabric, our sun and rain all weather awnings provide patio sun protection with increased heavier weather shelter for those less clement days. Clever tensioning mechanisms ensure a taut fabric at all times, and the rolling or folding textile roof is still fully retractable at the press of a button when not required.

All weather awnings were originally conceived as retractable textile patio roofs for restaurants, expanding their seating capacity, but now enjoy increasing popularity used as patio sun and rain awnings for homes. Increased wind and rain protection allow them to be used when folding arm designs may need to be retracted away, therefore an all weather awning with legs offers comfort alongside functionality that is even more resistant to the British weather.

A further benefit of these sun and rain awnings with legs is their ability to install to a less substantial facade; walls or cladding not strong enough to take a conventional cantilever awning design.

Rain Protection Awning E174
Our E174 sun and rain all weather awnings offer reliable sun protection even in windy areas while giving increased rain shower suitability. Having sturdy construction and stable leg posts these sun and rain all weather awnings feature an ingeniously designed spring mechanism keeping their fabric taut. An effective wind and rain awning when installed from a 14° rain pitch angle, the E174 provides an all-weather solution ideal for a windy patio.

View dimensions
Enquire for a similar project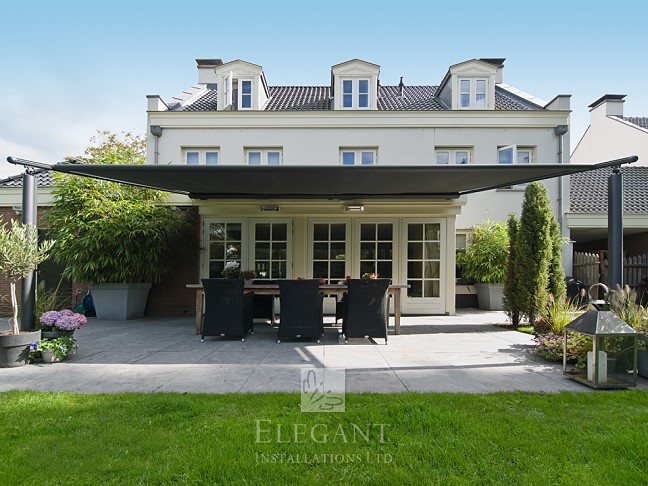 E179 Sun and Rain Awnings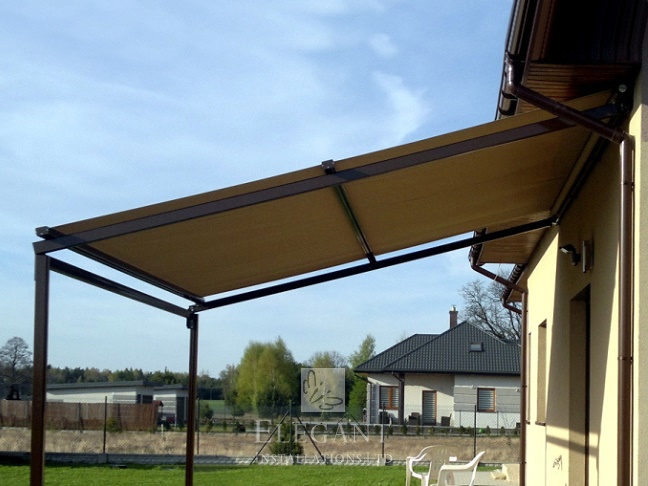 Having robust construction our Elegant E179 sun and rain awnings provide a dependable all-weather solution for homes. Excellent tension is provided by gas pistons hidden along its length keeping the fabric taut against rain showers (min 14° rain pitch recommended). Boasting outward projections up to 5m, these clever all weather awnings include a central fabric support bar which rolls away when closing. Single units can be combined giving almost unlimited possibilities of configuration, providing extended sun and rain protection for larger areas.

View dimensions

Enquire for a similar project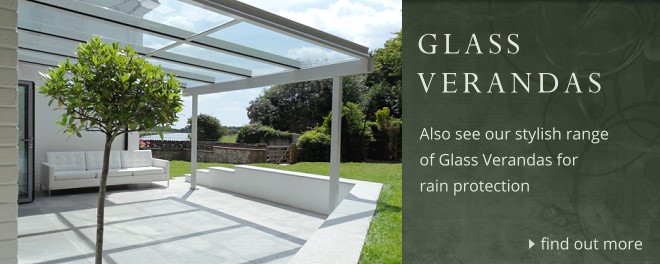 E205 All Weather Awnings
Our E205 sun and rain all weather awnings are strong built textile roofs suitable for a larger domestic patio. A sturdy front crossbeam provides extreme wind stability while aiding ideal fabric tension, giving increased all weather protection from sun and rain and the elements. From a recommended 14° rain pitch angle this impressive all weather system provides reliable rain protection.

View dimensions
Enquire for a similar project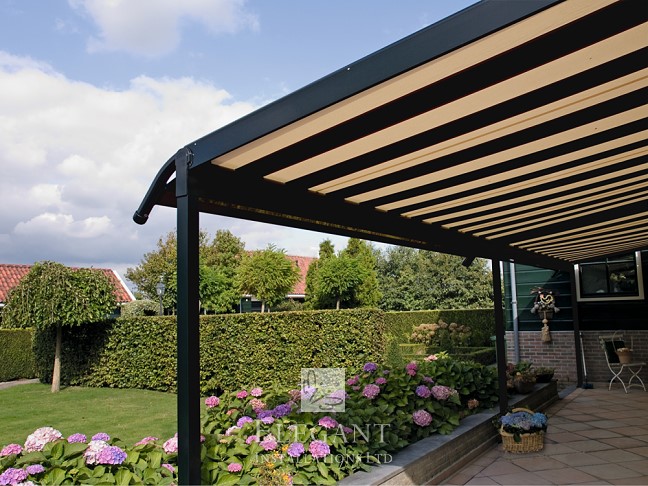 Folding Textile Patio Roof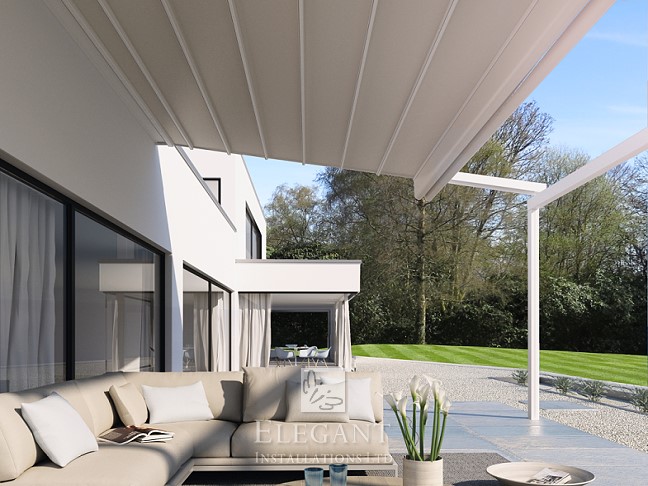 Capable of exceptional size, our all weather E215 folding retractable textile patio roofs are most typically 5m to 7m wide but can be coupled to achieve up to a 12m width where required. These sun and rain all weather awnings differ in design having a folding textile roof which concertinas away instead of rolling. With internal rain drainage inside its legs, plus with ability to add side screens or glass doors these textile patio roofs can create an all weather outdoor room. Designed for year-round use, the smooth folding style of these sun and rain systems suits traditional and modern homes alike.

View dimensions
Enquire for a similar project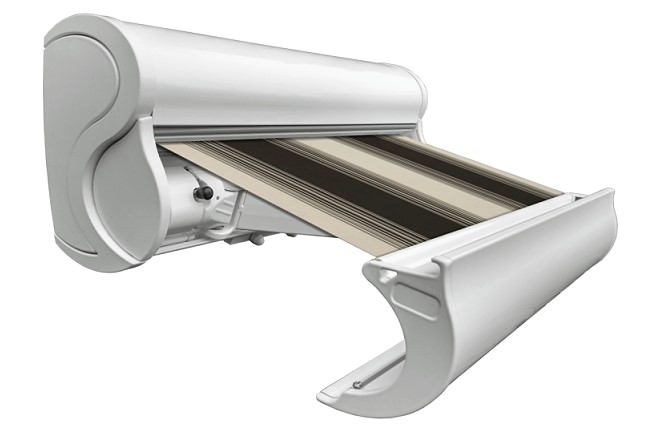 Cantilever Rain Awnings

Our range also includes some conventional awning models (without legs) suitable for use in rain.

Finding out more is easy:

Free Brochure | Quotation Request



All has been fitted very nicely. Very pleasant and knowledgeable people.

Mr H. Ripley

Read more Testimonials